The Chelsea Community Foundation exists to help nonprofit organizations achieve their mission to address community needs and opportunities to improve Chelsea's quality of life.
Chelsea Community Foundation (Chelsea Foundation) is a permanent charitable endowment totaling more than $2.8 million created through gifts from generous individuals, families, and businesses who care about Chelsea. Since 1995, more than $1.8 million has been granted to local nonprofits impacting every demographic in the Chelsea community defined as the Chelsea School District.
The Chelsea Foundation  is a grassroots organization that grew from two compassionate philanthropic organizations, both emerging in 1981. The Civic Foundation of Chelsea coordinated individual and entities efforts that were serving community need; and The Foundation for Community Care, established by the Chelsea Community Hospital, that provided financial assistance to patients in need of health care services, insurance, and other philanthropic needs. The two organizations merged into the Chelsea Community Foundation in 1994, and in 1995 The Chelsea Community Foundation became an affiliate of the Community Foundation for Southeast Michigan. The Community Foundation for Southeast Michigan's staff assists in making investments in local nonprofits and helping its donors fulfill their charitable interests. The Community Foundation for Southeast Michigan has also independently invested in Chelsea nonprofits.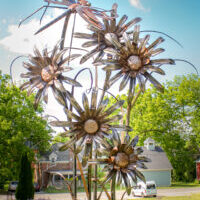 The Chelsea Foundation supports activities benefiting education, arts and culture, health, human services, community development, and civic affairs. Funds allocated to applicants are evaluated based on sustainability, community impact, leverage, and collaboration. Emphasis is on how profoundly the proposed dollars will impact Chelsea's future sustainability.
In April, 2020 the Chelsea Foundation responded to the emergency needs of several nonprofits in the community outside of the normal grant cycle and dispersed $160,000 to meet those emergent needs. Early in March as part of the normal grant process, The Chelsea Community Foundation provided a grant, taking the total annual investment in Chelsea to $170,000. For more information about the grant process and applications, visit our APPLY page.
Chelsea Foundation's oversight is comprised of an advisory committee of civic leaders and supported by many local individuals, families, businesses, and nonprofit organizations committed to building a healthy, sustainable, and vibrant community. The advisory committee, with the support of The Community Foundation of Southeast Michigan, is agile, responsive, thoughtful, and committed to supporting all things Chelsea!
The coronavirus pandemic will continue to impact the community in unforeseen ways, and the Chelsea Community Foundation will be there going forward. The Chelsea Community Foundation is profoundly grateful for and relies on donors' generosity in the Chelsea area to realize its mission. Donors who are interested in supporting Chelsea may find out more on our GIVE page.